How to design a Family Command Center that works for you
Ever changing schedules, an empty refrigerator, haphazard mail strewn on the counter. It all adds up when you've got a busy family! Take control with a family command center.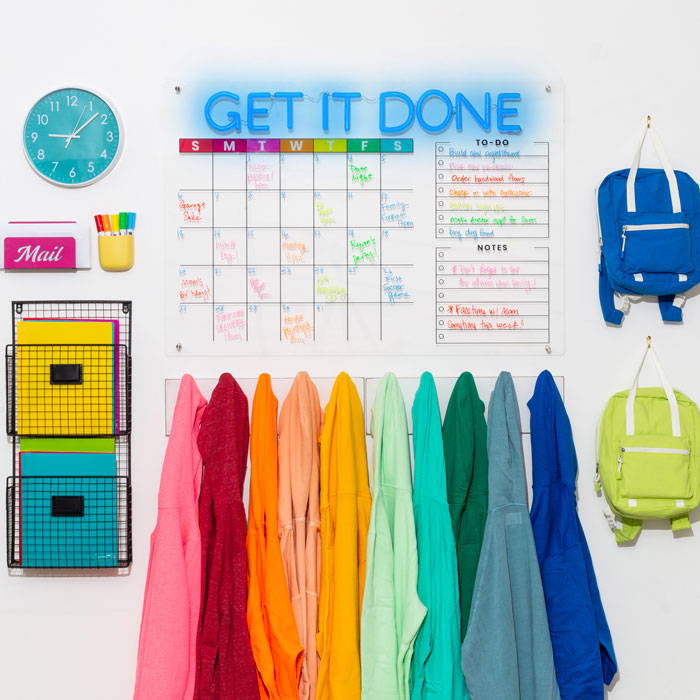 What is it a Family Command Center?
The name sounds daunting, and a little authoritarian. But the idea behind it is actually genius. This is a space in your home where everyone can see a combined schedule, plan meals, hang keys, even organize mail and paperwork. You'll find it easier to keep up on events like soccer games and recitals; and scrambling for keys on your way out the door will be an event best kept in the past.
"Fewer surprises = fewer stress fests. That's the kind of math we like."
So now you may be asking, "How do I integrate this into my family?" Well, each command center is different, and they work best when tailored to YOUR family. Luckily, no one knows your family any better than yourself. The key is to create a visual that is also functional and organized-- it's all too easy to let all factors overwhelm you. And because it should be easy-access, let's make it pretty too!
Here is a list of ideas and items to get your Family Control center started:
A large calendar should be front and center. The head honcho. Here, you can lay out the plan for the week and pen-in events and appointments as they come. Everyone can see them, so it should cut down on confusion and make gathering the troops even faster. Fewer surprises = fewer stress fests. That's the kind of math we like. Here's our very own version, made with the Family unit in mind! We find it works even better when events are color coded so we've added a multi pen pack. To take a step further, you'll want a place to list necessities, like a grocery list, or maybe the meal plan for the week.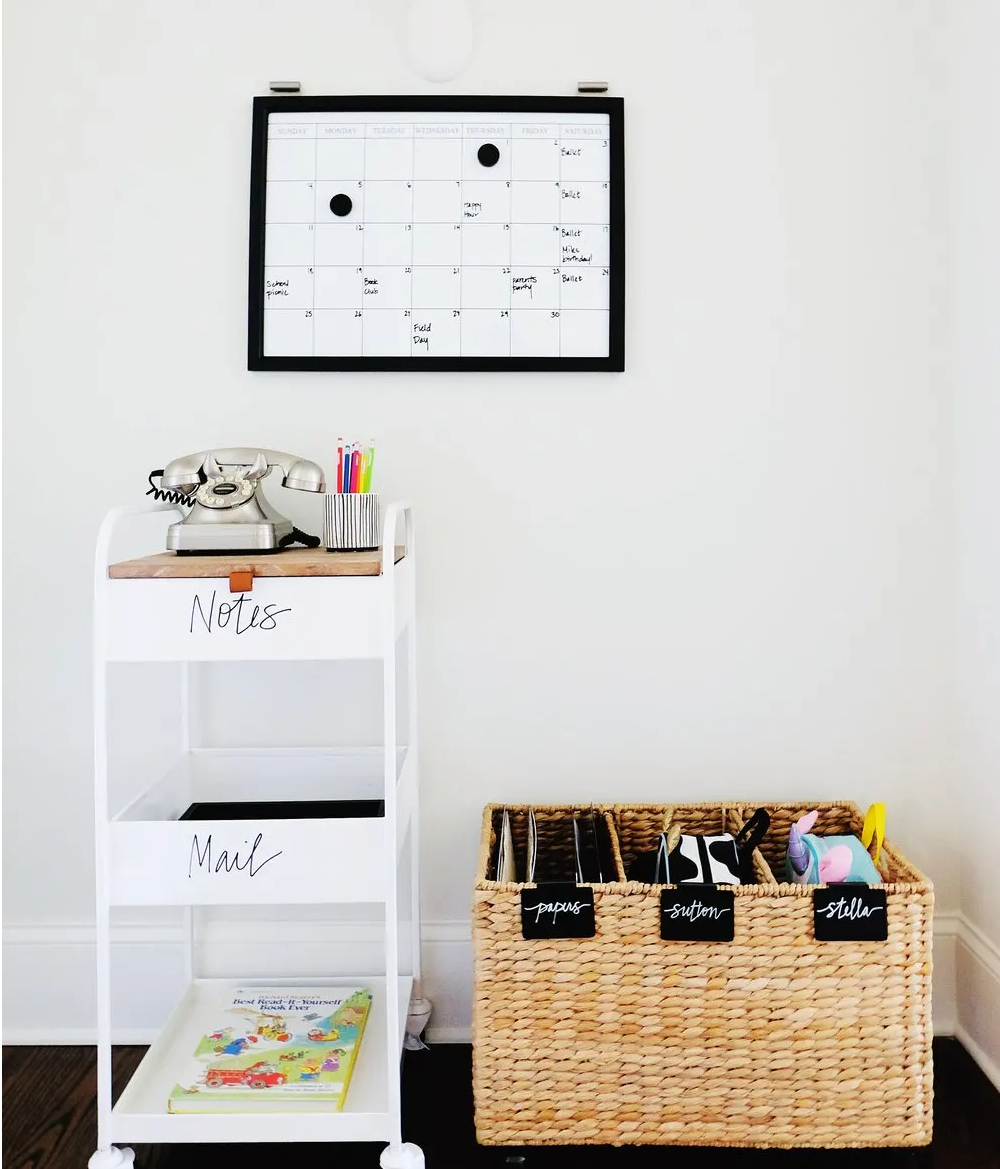 There will always be items that just don't have a spot. I.e. backpacks in chairs, or sandals kicked off by the door. Enter the drop-off station. We got this idea from The Home Edit! Get a few baskets that match, label with names, and viola! Those random items now have a home.
Slick brass s- shaped hanging hooks used in Sunny Circle Studio's command center. Simple installation, and versatile hanging options.
I've said this before, and I'll say it again, no one likes a bag taking the seat of a perfectly good chair. Give yourself, and your family a place to hang it so it's up off of the floor, and where there's no way to misplace it. The same goes for keys. If the command center is on your way out, or in, they can hang and be ready to go.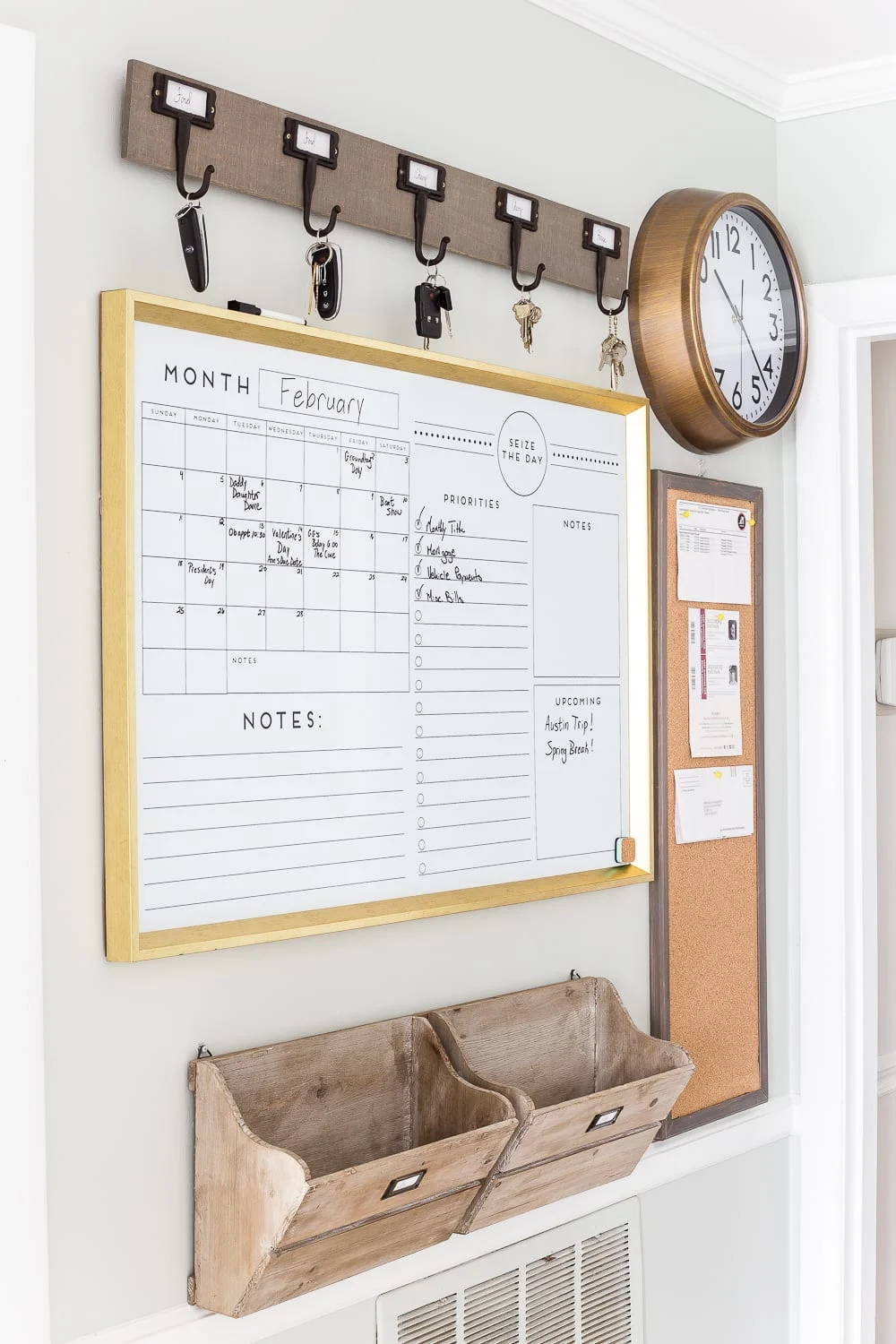 The Bless'er House shows how rustic and ready wood file bins are a great option, stylish option to organize loose paper and mail.
I have a spot on my kitchen counter where the week's mail just gets to hangout for a bit. It's convenient, but it looks cluttered and it's disorganized. Let's keep the convenience factor but make it pretty and neat by adding organizers, or pockets, to your family control center. You can keep mail filed and organized, have a spot for unpaid bills, and maybe a miscellaneous section for the kids' field trip slips and party invitations. The family's loose paper will now be easy to keep on top of and locate.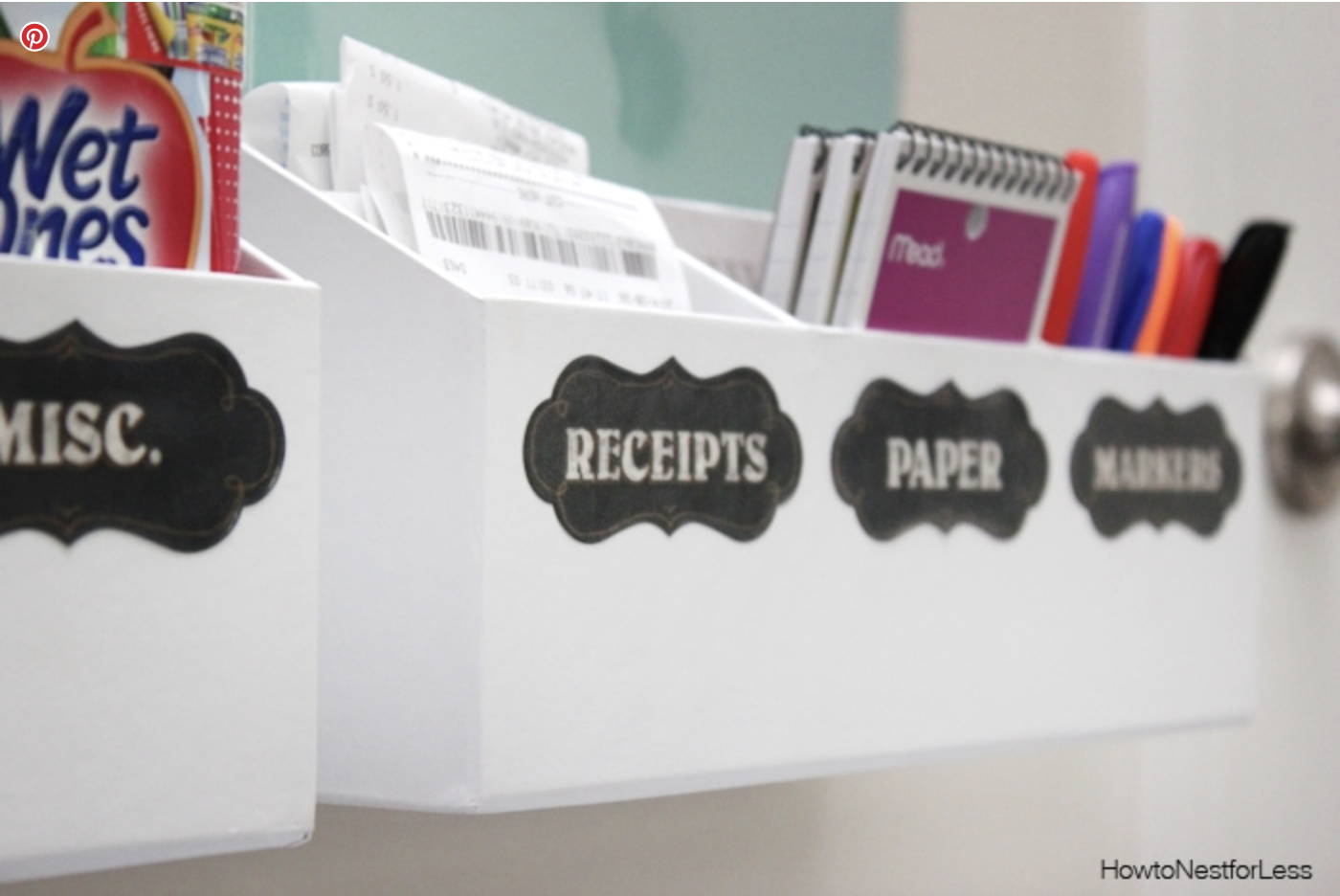 Pens--they have an innate ability to just disappear. So, you'll want to keep those stocked here. Try keeping a little pail of them, so you can write exactly what you're thinking as soon as it comes to mind. Same goes for scratch paper! Let's keep our panicked junk drawer searches to a minimum, and add it to the center. If you've gone for a corkboard, you may want to store pins and magnets in this same fashion.
You've got this under control
Now that you have the basics, we think you've got a pretty good handle on how to take back some control of your family schedule and loose ends. So go on! Pick a spot and get started. Don't forget to take a look at our Neon Calendar collection for some added inspiration!